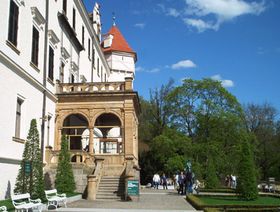 Konopiště castle, photo: Archive of Radio Prague "The main problem is a lack of money, because we cannot pay the employees and we cannot restore or repair buildings. The question of money is dealt with by the centre in Prague, the ministry, so it's not our business. We can't say anything."
Is it possible you may have to close your doors early this season?
"If we don't have enough money there is the danger that we cannot pay guides, so that's why castles maybe will be closed."
Do you know when you might have to close?
"The middle of September."
When does your season usually end?
"In the end of November."
So basically you would lose even more money, you would have even less money for next year?
"Yes, yes."
How many visitors do you get there every year at Konopiste?
"About 200,000."
Is it really possible that from that number of visitors you can't make enough money to function?
"We have to send the money we get from tourists to the centre in Prague, and then they give us some part of it to pay wages. We can't use this money for wages for guides."
How much do you pay guides per hour?
"At Konopiste castle it's about 34 to 38 crowns per hour. But in other places it's 25 crowns per one hour."
So that's less than one euro: one euro is around 30 crowns. What kind of people will work for that much money? Do you have mostly students?
"Mostly students and some old people."
Would you say the problem that you face - a lack of money - is also facing many other castles and chateaux around the country?
"Yes, yes. It's a problem of all the castles."