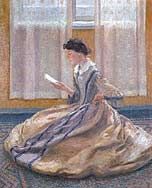 To learn more about the painter and his legacy, I spoke to the rector of the Academy of Fine Arts in Prague, Jiří Kotalík on the day of the show's opening.
"I think that Jiránek was very important and was a person who had a lot of influence on Czech modern culture and art. He was a member of the so-called '90s generation at the end of the 19th century – a new generation of young artists who stepped onto the stage in the last decade, with a very important role: to open the doors to Europe. To receive up-to-date information about developments. Jiránek attended the World Exposition in Paris in 1900 and met Auguste Rodin and as a result there was a big Rodin show in Prague in 1902 under the Mánes label. And that wasn't all: other shows, too, presented contemporary French art.
"The second important role of this generation was to fix the conservative 19th century international tradition by finding some kind of specifics of Czech art around Europe. That was the role of the Mánes group and Jiránek's as well. Because he was not only a painter – of comparable quality to Edgar Degas or Pierre Bonnard - but he was also an essayist, art critic, editor, and organiser. His work perhaps wasn't as highly-valued then because there were some doubts or there was discussion about whether he was a better writer or painter. Nevertheless I think that he was important."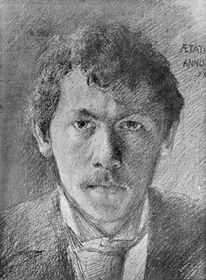 Miloš Jiránek As you mentioned there, he connected with Auguste Rodin and others like Edvard Munch, and he brought them to... well it wasn't even Czechoslovakia yet!
"Yes and that was a part of it. You know, he died in 1911 at the age of 36 and so he didn't live to see the realisation of the dream of his generation but that was a part of it: the establishment of an independent Czechoslovakia as sought by Masaryk in 1918. But I'm sure that Jiránek was one of those who help lay the foundation stones for the new Czech state."
Did he also have something of a rebellious streak, which was characteristic of the artists of his generation?
"Well specifically at the very beginning of his career he was kicked out of the Academy of Fine Arts because he wrote a strong critique of an exhibition, specifically of work by the head of the academy Václav Brožík. So he was one of the 'angry young men' of the '90s. At the same time, he was one of the few artists even later who was very tolerant and very near to the next generation of Cubist artists: Fila, Kubišta and so on. So was a keystone between Mánes and really modern artists, Cubists, who came after and rose to fame after 1914."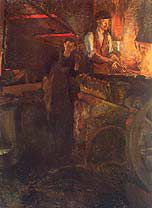 As an artist, I've heard, that he himself said that he wasn't influenced by his immediate 'predecessors' but by the Old Masters like Rembrandt or Velasquez: is that true?
"He wrote a short articles about these artists and wrote a book called Impressions and Travels and stressed there that the most important influence for him was to stay face-to-face with works of the Old Masters. Specifically: Velasquez works in Vienna; Rembrandt in Prague and his school of followers, Goya. Tintoretto, he visited Venice. And this was his 'university' in fact. And only on a second level, contemporary French art."
All the same, he is often referred to as a Czech post-impressionist, so to what degree was he influenced by that movement?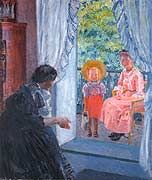 "Of course he reflected on what was happening so he followed Monet and others. He highly valued Edgar degas and you could say he was kind of a follower but he also accepted the positions of Gauguin or Van Gogh in a little bit different way than them but through some kind of filter, under the 'curtains of symbolism'. He was very near to Odilon Redon and towards the very end of his life, Pierre Bonnard."
Thematically, were his subjects similar? He did landscapes, portraits...
"That's very important because one of his ideas was that what was important was not the final painting but the idea. The idea behind the painting, sketch or design and there is no work bigger than 1 metre 40 centimetres tall in his work. He stepped out of one theme into another: he was very good at landscape but he was one of the first who did figural painting about sport: a football game or gymnastics. Sometimes 'theme' is almost absent: just a lady sitting in a chair, reading a book. Just everyday life which is all around."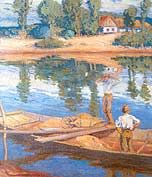 With respect to what you're saying, do you think it is in a way appropriate that this show is a small one – kind of a 'chamber exhibition'?
"Yes. I do value that the National Gallery remembered this anniversary and it is really an homage to his work and to a great man. The last complete exhibition of his was back in 2000. Once more, let me stress that his literature and his painting are inseparable from each other: they have to be understood together, not as two separate disciplines. There is a literary quality to his paintings and a visual quality to his writing, which is full of imagination."