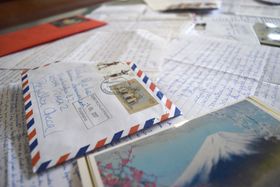 Photo: Ondřej Tomšů Toshiki Tsuboi from Japan says: Thank you for the beautiful orchestra music. I love Janacek so much and it is so hard to find Janacek's CD in Japan.
Koji Nakayama says he enjoyed Radio Prague's Sunday Music Show featuring indie rock, post rock and punk rock. "Looking forward to the next show already "Koji says. Karobi Hazarika from India writes: I listened to this week's Sunday Music Show where you played hit songs from the 60s, 70s and 80s and enjoyed it very much!
Well, I have good news not just for Karobi, but all of you who like tuning in to our Sunday Music Show profiling Czech bands and singers. As of next year we will feature a new music series called Hit of the Century held in connection with the centenary of the birth of Czechoslovakia. Between January and May from Monday to Friday you will hear a song a day, going from 1918 to the present, and featuring the best of Czechoslovak and Czech music over the years. Listeners in the Czech Republic and abroad will be able to vote on the hit of the century. Each week you will hear the five selected songs in our Sunday Music program and of course find some basic information about them on our web page.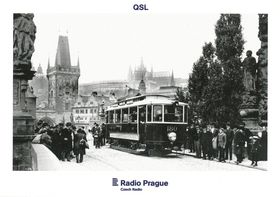 QSL card 2017 - Electric tram on Charles Bridge in years 1905–1908, photo: Dopravní podnik hlavního města Prahy Richard Nowak, from Florida, in the US, is one of our many listeners who still write in for QSL cards. He says "Thank you so much for the QSL card with the streetcar on Charles Bridge! That is cool!"
I am sure that Richard and many others will be happy to hear we have a brand new series of QSL cards waiting for you –this one depicting radio equipment! So write in and ask for one – we'll be happy to oblige.
Beer is another highly popular topic with Radio Prague listeners – and for good reason. Akira Takei from Japan writes "I am interested in Czech beer. The Czech Republic has a long history of beer production. I buy Czech beer on the Internet."
Elizabeth Milewicz Tyson from Australia says "I enjoyed your new mini-series on pubs in Prague and was intrigued that some of the local brews are made from hops imported from Australia."
We are glad to hear that you enjoyed the pub series – complete with videos. We have also covered cafes and will think of other places to take you in Prague. So write and let us know where you'd like to go.
Jain Mahesh says the program on sites listed as UNESCO cultural monuments and those the Czech Republic is hoping to get listed was very informative.
Many thanks Jain, and you may be interested to hear that a mini-series on architectural landmarks is in the pipeline for next year.
Jain adds: I also had to chuckle over the Czech phrase "elephant in a china shop" being familiar with the English phrase "bull in a china shop".
Well, those of you interested in the intricacies of the Czech language may be happy to hear that a new Czech language series is in the pipeline which students of Czech helped to put together and this time you'll be able to learn Czech with the help of short videos.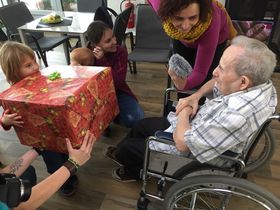 Santa's grand children, photo: Michaela Jarošová Kunihisa Yoshie – a regular listener in Japan – says "my desire to visit the Czech Republic is getting bigger and bigger thanks to Radio Prague." Knowing that we shall work harder than ever to get you to visit Kunihisa!
Nobuya Kato from Japan wrote to say he was touched by Czech Radio's charity project Santa's grand children which aims to bring a ray of light into the lives of abandoned elderly people in old age homes and help foster new inter-generation friendships. He says it is a fine example for Japan where the society is also aging.
We also think it is a grand idea, Nobuya. As you will have noticed we have a great many listeners in Japan – who show considerable interest in the CR – Nobuya says he listened to our report about the Moravian Day festival in the US – and notes with regret that there is no Moravian community in Japan. I hope that some Czech group will come to Japan to show us their costumes and traditional performances sometime soon. Maybe we can also enjoy special foods and drinks, he adds.
Well, until they do Radio Prague has a few videos with Czech recipes on its web and Facebook page where you will find simple, step-by-step instructions on how to cook some Czech Christmas specialties. It's a bit late now, but our potato salad is great any time of the year.
As regards Czech expat communities abroad, we try to report on their activities as often as possible and for those of you who speak Czech have a special web page in Czech for and about them.
If there's anything you miss on Radio Prague or would like to find out more about do let us know. The address is English@radio.cz or write by snail mail to Radio Prague, Vinohradska 12, 120 99, Prague, Czech Republic. You can also follow Radio Prague on Facebook and Twitter. Happy New Year 2018!