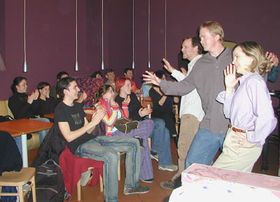 Second Sundays performance Susan Lock joined at the outset and hasn't looked back since:
"We did the first show, the Gershwin Show, where it was just a story based on Gershwin music and from then on, we've just been doing one show after the other. We did a special one for Christmas and now we have a new one, this one called Technicolor Dreamin'."
Technicolor Dreamin' will bring back old times but don't expect to be drowned in cheap sentiment - the cast have gone fore a refreshing set up in which the characters drop their original roles to give the audience plenty of laughs. Brian Caspe pulled this international actors' troupe together in September of 2003 and has big plans for the future:
"It's really the success of the enjoyment that the audience members are getting out of the show that's really amazing. It's more than we could have hoped for and I think what the audience gets out of it is kind of going back to that time when they were at home - most of our audience are expatriate English speakers and so they know this music and there's a real need for it in the theatre-going community. It is starting to have a name. I was passing out flyers to people and someone who I heard speaking English in the subway said he had heard about us and read about us in the Prague Post. So, people are starting to hear about it and I think that as we move forward and as we have more and more shows, which are all fun and have that nostalgic factor, more and more people will start to want to come. It's really great that this group is really filling a void in the theatre community because there's nowhere else that you can really go on a regular basis and see theatre in English. As we move forward and get more and more people involved, we'd like to have two different groups that are integrated but doing different stuff, so that we can be rehearsing one show while performing another show and not have people get too burned out. We've got big plans for this group and it's very exciting. Right now it's at the beginning and is just starting to take off. It's really great! "