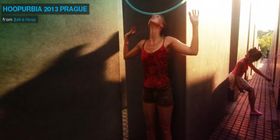 Photo: Official website of Hoopurbia And what is hoop dance you ask? That was the first question I put to Rebecca.
"Hooping or Hoop dance is really a combination of dance, exercise and play inside a large hula hoop. So they are a little bit different than the children's hoops you can buy at the toy store which are too light and impossible to use. In Hoop dance it is really a new kind of hoop that we are using which is bigger and heavier and is designed for adults. So while hula hoops are for kids, adults can now enjoy them too."
It has a long history, doesn't it? Native Americans have it, it's been around for a long time...
"That's true: there's the whole cultural history that goes with the Native American hoop dance, where they tell the story with the hoop. They actually usually use a smaller hoop with that: rather than spinning the hoop around the body they do a bit of spinning, but it is mostly about creating shapes and weaving them together and telling the story.
"With Hoopurbia, we are definitely inspired by the tradition but we combine it with contemporary dance and ballet and aspects of yoga, even. It is about proper breathing and connecting with the body and using the body as a central point towards the dance."
As a former student of dance, did you encounter the hoop early on or did this come later?
"Well I have been dancing since I was five so I began with ballet and jazz and started studying modern dance. I 'discovered' the hoop in 2003 and when I began spinning it I realised that it was dance. That was my experience. And so at that pointy I decided to pursue professional training in contemporary dance and choreography. My intention was to go deeper into Hoop dance and figure out how to share this in an organised format."
It's a dance form but at the same time it brings together all kinds of different elements: there's the sport aspect, the idea of performance, New Circus uses aspects of it as well, music, and video art: all these things come together, it seems, in one package.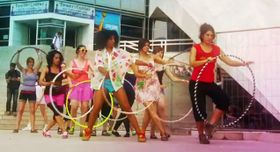 Photo: YouTube "That's true. The focus of the festival, in its educational and performance aspects, is dance, yoga, and the hula hoop. Of course, we dance to music, so we are supported by musicians and the whole concept is to bring together many amazing people from all over the world. Last year I invited them to Berlin for the weekend and we made created art and shared it through workshops and performances. The second aspect of Hoopurbia is highlighting the city.
"Last year we were in a lot of urban spaces, there was graffiti and the edgy artsy part of Berlin. Berlin has an industrial feel and also highly creative vibrations so that all came together.
"This year the theme is Classic to Contemporary and I think that suits Prague with its long history and beauty. And then there is kind of underground scene that is really happening right now. It is really exciting to be here at this time."
What are some of the places you are going to be performing?
"We are going to have a hula hoop flash mob on Friday, June 28, right after the clock chimes the hour at nine..."
You mean the Astronomical Clock on the Old Town Square...
"Yes, we are going to try and surprise everyone there before heading to some other locations. Anyone who wants to come along and watch the video shoot should sign up for Hoopurbia on Twitter."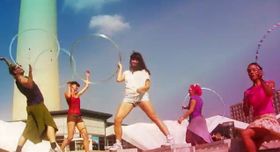 Photo: YouTube So basically, you have - on the one hand – performers, new or more experienced, who will be training and performing in Prague and – on the other – people from outside who will be interested in learning more.
"Exactly, Hoop dance is well-known in Canada and in the US but in Europe, when I came in 2011, it wasn't the case. Since, Berlin has become a 'hop hub' in Europe and a lot of people are doing it now. If you say 'hula hoop' in Prague people right now just laugh, but there are already a couple professionals here teaching Hoop dance, so our hope is that it will catch on. It's a thing that people are doing now: you can go to a Hoop class like you would yoga or aerobics."
As a dancer, what is the difference when you take up the hoop?Obviously it is a physical object that limits or gives you new opportunities in your movements. Does it change your focus in different ways?
"It really brings an awareness to the centre. The thing that I like the most about the hoop is that it really provides a relationship to space. I know exactly where I am in space when I have my hoop around me, and it provides a centre-point and a radius. So you can really measure if you are fully extending your arm or if you have bent you can feel it. Also, once you begin to dance, it provides a counter-weight. So it is almost like having a dance partner: you know, if you are holding someone's hand you can lean away and the weight of their body will support you. And this is sort of what it is like with the hoop. It acts as an extension of the body."
As a performer, what kind of aesthetic do you aim for and does it vary?
"It varies and depends largely on the project. I love collaboration and work with a lot of different people: musicians, video artists, and so it also depends on what they bring to the table. We discuss what we want beforehand and then go for it. I was just commissioned to work with a photographer who was opening an exhibition and he wanted me to perform and expand on the themes in his work through movement. With musicians it depends a lot on what they play. I also love fashion and you can make the claim that the hoop is like an accessory.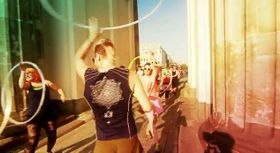 Photo: YouTube "In Prague, we will have a showcase on Saturday the 29th of some of the top performers which will be very exciting and after that we will have DJs and also prizes for the best – and worst – hoop dance. A designer from Berlin will be providing some of the prizes. Last year a lot of designers got involved and we have some of them as sponsors we are really grateful for, so there is really a fashion element to hooping and hoop dance and Hoopurbia."
This is a small detail in what we've been talking about but an important one: who designed the logo for Hoopurbia 2013 and is it an original font?
"The logo was created by Anette Hansen and it is an original font. She is from Norway but lives in Berlin. I worked with her last year as well and she is an amazing designer: I love her work and will be working with her all my life! (laughs)"
In your view, what kind of feeling should it evoke?

"That logo was inspired by the spirograph, you know, which draws a circle over and over again. That was where the concept came from. Hoopurbia is about connecting people from all over the world, and there are symbolic aspects like the flower, the circle of life... It should be something that is positive and fun but also edgy and contemporary."
It feels also like a bit of Art Deco and science fiction... very catchy.
"It's all about the past and future: I mean, hula hooping is a retro thing and it also has this long history but we are doing it in a contemporary way."
It is too early to talk about how things will go this year but what is next for Hoopurbia in 2014... will it again be in a European city?
"I think we may go overseas but we will only release information about the location at the gala showcase. If you want to find out you have to go!"
To find out more about the upcoming festival and conference please visit: www.hoopurbia.com