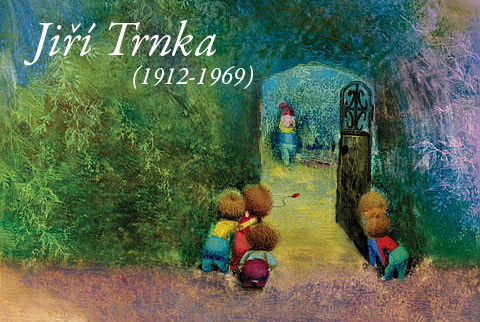 Jiří Trnka Jiří Trnka was born in the city of Plzeň on February 24, 1912. He attended classes at a vocational school in his hometown, where he met his teacher Josef Skupa, who eventually would become a leading public figure in the world of Czech puppeteers. Skupa was his mentor, entrusted Trnka with certain responsibilities, and managed to convince his family, who were initially reluctant, to allow him to enroll at the prestigious School of Applied Arts in Prague, where he completed his apprenticeship between 1929 and 1935.

100th anniversary of the birth of Jiří Trnka
International Festival of Animated Films Anifest
The 11th Anifest film festival (April 26 - May 1, Teplice) will screen Trnka's films from original 35 mm copies, the selection of them curated by the historian Michaela Mertová from Czech National Film Archive and accompanied by various lector's presentations. An exhibition in the Teplice museum will focus on the process of creating of Trnka's films and their puppet protagonists.
Commemorative silver coin
The Czech National Bank issued the commemorative silver coin from the cycle featuring prominent personalities of Czech culture. This coin marks the 100th anniversary of the birth of Jiří Trnka. The obverse side of the coin features a rectangle containing a female elf from Jiří Trnka's film "A Midsummer Night's Dream". The reverse side of the coin features a portrait of Jiří Trnka. The coin was designed by Josef Oplištil.

The work
Short films:
My grandfather planted a beet (1945)
Animals and bandits (1946)
The jumper and the men of the SS (1946)
The Gift (1946)
Story of a bass (1949)
The Devil's Mill (1949)
Song of the Prairie (1949)
The Golden Fish (1951)
The Merry Circus (1951)
Two Little Frosts (1954)
Hurvínek Circus (1955)
Why is the UNESCO (1958)
The Passion (1962)
The Cybernetic Grandma (1962)
The Archangel Gabriel and Mrs. Goose (1964)
Maxplatten (1965)
The Hand (1965)
Feature films:
Špalíček (1947)
The Emperor's Nightingale (1949)
Bajaja (1950)
Old Czech Legends (1953)
The Good Soldier Švejk (1955)
A Midsummer Night's Dream (1959)
Illustrations