Christmas Photo Competition
Win a Christmas gift from Radio Prague! Post a photo on our Facebook page of a Christmas market in your home town capturing the spirit of Christmas. The winning entry will be judged by the number of likes and the winner will win a retro radio. Please post your photo by December 11. The competition ends on December 18. For the competition rules see below.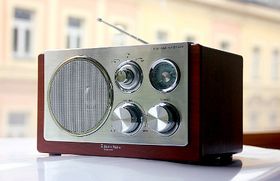 Photo: Štěpánka Budková
Competition rules:
1. Radio Prague's Christmas competition will run from November 24. Participants can post entries on our Facebook page until December 11. Voting will take place until December 18. The winners will be announced on December 19.
2. The winner on the Facebook page of each language department will get a retro AM/FM radio. The prizes will be delivered by post.
3. Participants may only post their own photos, to which they alone have copyrights. The photos must respect the chosen theme "Christmas market". Participants who break the rules will be disqualified and their entry will be removed from our Facebook page.