Spotlight
Castolovice - a castle that is living
Castolovice is a little town with a beautiful rennaissance castle situated in flat wooded countryside in East Bohemia about 20km from the town of Hradec Kralove. The special atmosphere of the place strikes you straight away as you walk through the castle gate.
Castolovice The courtyard is surrounded by blossoming flowers; from the castle café emanates gentle, pleasant music. Surprisingly, despite its elegant charm the castle is not one of the most famous Czech monuments. I discovered it only a few weeks ago when a friend of mine chose it for his wedding reception.
The castle is indeed an ideal place not only for weddings, but for honeymoons and all sorts of romantic trips as well. Its main beauty is that it is not just a collection of art and antiquities; it is a living place which offers all sorts of activities.
And the current owner countess Diana Phipps Sternberg confirms it with pride.
"We have weddings, we have all sorts of conferences here. We have a pension where people at the moment can not stay because I find it so difficult keeping it to the standard that I'd like it to be. So that part is closed. But we have just built a mini-zoo here..."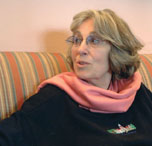 Diana Phipps Sternberg Although Ms Phipps Sternberg always refuses to be addressed as countess, she does come from an old Czech noble family - the Sternbergs. They have owned the castle for more than 300 years. But, like all other Czech noble families, the Sternbergs had to face many difficulties in the course of the twentieth century. During the Second World War the castle was requisitioned by the German occupying forces, while after the communist coup d'etat in 1948 it was confiscated by the state. Diana Sternberg was 12 years old when her family decided to emigrate abroad. The family members had to find a new way to earn for their living and young Diana Sternberg became a very successful interior decorator. She never dreamed that she would come back to Czechoslovakia one day. So in the end, her return was nothing more than a chance.
"I never decided to come back. As a result of a book that I wrote about interior decoration, and how to do it inexpensively, I had the honor that Olga Havel, the first wife of the president asked me to come and help them in the Prague Castle in 1990."
The castle was returned to Diana Phipps Sternberg in a devastated condition and she has put a huge amount of effort into bringing it back into shape. Surprisingly, she says she feels no personal attachment to the property where she spent her childhood.
Diana Sternberg with her parents "I have no sentimental feelings about the place at all. It was a place that was in a terrible mess, and I realized from the work that I've done for all my life, that one could make it look a bit better. But I don't have any feelings of nostalgia or feelings about the families and so on. I just saw it as a job. And I think I have changed it a lot. I think we have just come out as the most visited castle in this part of the country."
Pavla Skrobalova who works as a guide in Castolovice took me for a little tour through the castle. In the first room I was captured by a painting which depicts the castle in a completely different way from how it looks today.
"This painting is from 1696 and it depicts the stronghold on the marshes. Today the castle does not look the same. It was rebuilt first in neogothic style and then in a renaissance style. In the 20th century it was rebuilt once more, but in this painting it looks like it was in the 17th century."
We also see these coats of arms on the wall. What kind of coats of arms are they?
They are the coats of arms of each of the Castolovice Castle owners. You can see also the present owner's coat of arms, there is the eight pointed star on blue field. It's the coat of arm of the Sternberg family. And you can see also this coat of arms in each room.
If you compare this castle to some other castles, is there something special? In the exhibition perhaps?
"You can see paintings of the Sternberg family in each room. What is very special, you can see fresh flowers in each room. I think that people come to this castle especially because of flowers and because of Sternberg family."
Castolovice castle does not suffer from a lack of visitors at this time of year. I asked a few of them how they liked the place.
Castolovice "Oh, we liked that Castle Castolovice. And what grabbed our attention? Perhaps that painting where the artist depicted the gentleman with two left legs."
Where do you come from?
"From Holland."
How do you like the castle? Have you been inside?
"Yes, it was beautiful"
"It's like you can - you know - 'check in tomorrow."
What did you like the most?
"Especially the ceilings. Well everything is very nice; the furniture...and everything is like - well, as I said - you can move in right away."
Castolovice The castle is really special and looks very attractive today. But Diana Phipps Sternberg shrugs off any compliments about her success.
"You are wrong. My problem is I am visually successful, but I am not financially successful."
The upkeep of the property costs 8 million crowns a year, whereas it makes only 4 million. Diana Phipps Sternberg is able to cover that loss only due to the income from her wooded estates, which are profitable so far, but she receives no subvention from the state.
Most of the castles in the Czech Republic are owned by the state, even though quite a few of them have been restituted to their original owners since the fall of communism. Some are unfortunately in poor condition after decades of neglect. Therefore it is quite an achievement when a private owner manages to maintain this kind of precious property in such a good state as Castolovice.
The castle is open from April to December every day except Monday.