In Sports News: Kvitova loses a three-setter against Bartoli at the US Open; the Czech Rally Zlín ends in tragedy; football's František Cipro is fired as Dynamo České Budějovice coach; Czech paralympians make their mark in London; football clubs Sparta and Plzeň learn who they will face in the Europa League.
US Open: Kvitova ousted by Bartoli
Petra Kvitová, photo: CTK Czech tennis player Petra Kvitová lost her fourth round match at the US Open against Marion Bartoli 6-1, 2-6, 0-6, on Sunday. Although Bartoli failed to hold a single service game in the first set thanks to an overpowering game from the Czech, the Frenchwoman fully recovered for the final two sets. After failing to 'show up' for the first seven games, Bartoli suddenly found her bearings at the start of the second set. The Frenchwoman's confidence grew with every rally. Once she was up 4-2 in the second set, she won eight straight games to close out the match. After the match, here's what the defeated Czech player had to say:
"I feel sad, that's for sure. The first set might have appeared to be quite easy but it wasn't. Marion then started to play as she needed and it paid off, unfortunately."
Barum Czech Rally Zlín ends in tragedy
Photo: CTK One person was killed and one injured when a rally car raced by Václav Kopáček and Tomáš Singer flew off the road during the 13th stage of the Barum Czech Rally held in Zlín, on Sunday. The race was then stopped; organizers later said the two spectators were in a zone that was off-limits to viewers. Juho Hanninen was later declared the winner of the Barum Czech Rally Zlín, the ninth round of the 2012 Intercontinental Rally Challenge, although podium celebrations were cancelled as a mark of respect following the tragic accident.
Fotball: Cipro third head coach sacked in current Gambrinus liga season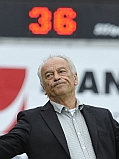 František Cipro, photo: CTK Football's František Cipro, the head coach of Dynamo České Budějovice, in the Czech top flight, was sacked on Monday, after his club suffered five defeats in the first six rounds. The decision followed a loss to Brno on Saturday. Dynamo sank to the last position in standings. Miroslav Soukup, fired from Slovácko two weeks ago, is allegedly among the favourites to replace Cipro. Besides Soukup and Cipro, coach David Vavruška lost his job with FK Příbram, last week.
Four medals for Czech Paralympians
Jiří Ježek, photo: CTK Radim Běleš became the first Czech to clinch a medal at the London Paralympics. On Friday, he earned silver in the Club Throw category. Also on Friday, Jan Povýšil won bronze in the 50 metres freestyle swim, and Rostislav Pohlmann earned a silver medal in the discus throw. Shot put finalist Aleš Kisý came up just short of a medal and finished fourth – a repeat of his performance in Beijing four years ago.
On Saturday, Czech multiple gold-medallist Jiří Ježek was among the favourites in Track in the individual 4000 metres pursuit, and earned a silver medal with the second-best time. The Paralympic Games in London continue until September 9th.
UEFA Europa League group stage draw
Viktoria Plzeň - Lokeren, photo: CTK In football news again, following Friday's draw in Monaco, football's Viktoria Plzeň will start their UEFA Europa League campaign in Group B, which features reigning champions Atletico Madrid of Spain, Portugal's Coimbra and Israel's Hapoel Tel-Aviv.
AC Sparta Praha landed one of the most difficult groups in this year's competition, Group I, including French powerhouse Olympic Lyonnais, Spain's Athletic Bilbao, and Israel's Happoel Kiryat Shmona. The first round matches take place on September 20th. Only the group winners and runners-up will progress to the round of 32 in the spring.