Marketplace
New director seeks ways to keep Prague's public transport authority afloat
Difficult times lie ahead for the Prague Public Transport Company. The largest municipally-owned firm in the country is in massive debt, and hamstrung with huge contracts virtually impossible to cancel. Its new director, appointed earlier this week, is faced with the challenging task of increasing the company's revenues and cutting costs while maintaining its operations and keeping the prospect of privatization at bay.
Photo: Filip Jandourek Each year, 1.25 billion people use Prague's public transport system. Over 40 percent of all journeys made in the capital are done on buses, trams and the metro which ranks the Czech capital among Europe's top cities in the share of public transport.
But the system's operator, the Prague Public Transport Company, has run into serious problems. Its debts have reached eight billion crowns, and the prospects of getting back into the black are slim. The company is dragged down by a massive contract with the tram manufacturer Škoda Transportation, signed in 2006. Under its terms, the transit authority has to pay nearly over 19 billion crowns for 250 trams until 2018. Prague Mayor Tomáš Hudeček last week warned the city was not going to increase its subsidies to the company, and said that if the authority were a private company, it would be forced to file for bankruptcy.
"The capital is already spending a great deal on the transport company. Per capita, we pay 16,000 crowns a year, and the transport company cannot really come asking for more. We are in a situation that the firm does not have to file for protection from creditors because the city provides guarantees for it. But Prague cannot hand out any more money."
Prague City Hall would like to lower the annual payments for the trams by extending the duration of the deal. But that's nearly impossible to do under the terms of the contract which lawyers say cannot be cancelled.
Last week, the board of supervisors dismissed the transit authority's director Milan Křístek and on Monday, a new director was appointed. Jaroslav Ďuriš, who is set to assume the post next week, spoke to Czech TV about his plans.
Jaroslav Ďuriš, photo: CTK "We have to increase revenues but the question is how. The easiest thing to do would be to increase fares. But I don't think that would be a good move. There are other types of revenues – for instance, I don't think it's right that one of out clients, the Central Bohemian region, does not pay the fees for transportation we provide. This is one type of revenue that we could increase."
The company has put off plans to raise revenues by re-introducing turnstiles in Prague's metro which would limit the number of fare dodgers. The new director is also sceptical about hikes in fares, mainly for political reasons as elections in Prague are to be held next year. But Mr Duriš said there were other ways to get in more money.
"The overall number of various discounts is very high, and the corresponding loss of revenues amounts to some 1.7 billion crowns. Roughly speaking, around one third of the total number of passengers on Prague's public transport enjoys some kind of discount. That's a huge share, and it's something we want to look at."
There has been speculation that the public transport company or some of its parts could be privatized. But Prague Mayor Tomáš Hudeček is opposed to the idea.
"I personally do not wish to sell the public transport company or any of its parts. Two years ago, when there were plans to privatize the firm's repair shops, we stopped those plans twelve days before it was going to happen. So I believe we'll prevent something like that this time around, too."
I discussed the situation of Prague's public transport operator with Vratislav Filler from Auto*mat, an advocacy group.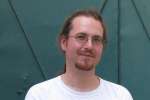 Vratislav Filler, photo: archive of Auto*mat "They do their job quite well, I think. More than 40 percent of journeys are done on public transport so they provide a lot of services. Some of the connections have deteriorated over the last two years but that's not because of the transport company as such. It has been caused by coordination of transport in the region which changed the tasks for the company."
Does that mean that getting around the capital and its surroundings is more complicated because of the system?
"No. The regional coordinator has changed bus and tram lines and connections. That has improved transport in some areas but others – and there are more of these – have problems. The amount of money spent on the system has been the same for several years now so the changes actually saved no costs. But I think this is not an issue of Prague's transport authority."
The company has been criticized for alleged corruption. Some of the contracts it awarded – the one for trams, another one for tickets – are seen as ways of siphoning money out of the company. Have you seen any improvements in this respect under the last two mayors, Bohuslav Svoboda and Tomáš Hudeček?
"Well, I can't give you a precise answer if there has been an improvement or not. But there has been some improvement – Mayor Hudeček appointed a special deputy for public transportation so that's a positive change. But I don't really have enough insight into the situation."
The company's new director, Mr Ďuriš, said he would like to increase the revenues. One of the things he wants to look at are the free passes which he says about one thirds of passengers now have. He also wants to raise fines for fare evaders. Do you think this is the way to go?
Photo: Kristýna Maková "Well, I think this should not be up to the director of the transport company to decide. This decision should be made on a higher level. If the city wants to provide some services for free, they should decide if they can pay for it. The director can certainly make such a proposal but the decision should be made on the city hall level."
Aren't you concerned though that if these free passes – provided mainly to children and retired people – are cancelled, it will lower the number of people taking public transport on everyday basis?
"It can in effect decrease the number of journeys on public transport, and make some people, such as parents of children, use their cars to take their children to school. So yes, this could be negative. But we cannot now estimate the scope of it."
What do you think the transport authority should to attract more people?
"I think they could improve some aspects of the system. They could introduce higher traffic priority for public transport vehicles like trams and buses. I believe the speed of travel could be increased by 10 percent which would make public transport more attractive."
One of the major projects of the Prague Public Transport Company is an extension of the A line of the metro to reach Motol in the west part of the city. Do you think this was a good idea and it will make travelling in the city easier?
"I'm afraid that the extension of the A line is quite controversial. Its route was decided politically and it's not very well located. It will cover areas which are already covered quite well by the existing tram network. Instead, they could be started working on the D line to the southern parts of Prague which are only covered by buses. But the project was postponed. So I think a different decision should have been made."
How open would you say Prague City Hall and its transport authority are to debates with groups like yours about public transport?
"It depends very much on the people with who you are talking to. Some of them are open to proposals and ideas. Also, the times have changed somewhat and it's been getting better over the last few years. It also depends on the topic. We have good contacts with people who develop the city's cycling network but we do work closely with those who make decisions about other types of transport."
Photo: Štěpánka Budková There has been speculation about plans to privatize the company or some of its part. Do you think this might happen after all?
"I can say that in the Czech Republic, anything is possible. But I hope this idea will not come through because if the city loses control of the public transport company, it could make the situation worse rather than better."
Why do you think that a private operator would be worse, as you said, than a public one?
"There is experience from London for example which privatized its public transport company and had to get it back several years afterwards. I also think now it's the time to improve the way the company works rather than change the whole game."