Marketplace
Czech firms looking to profit from Chinese reset
The Czech Republic is looking to expand cooperation with China following a recent reset of relations with that country. Two months after a ground-breaking trip to Beijing by the Czech foreign minister, the minister of industry and trade, Jan Mládek, has just visited China in an effort to boost trade, investment and tourism links between the two nations.
Jan Mládek, photo: Filip Jandourek Minister Jan Mládek visited several Chinese provinces and cities during his week-long trip including Shanghai, Ningbo, Suzhou and Beijing. He was joined by a large business delegation for the trip which concluded on Saturday. Mr Mládek says his visit was a breakthrough in the relations between China and the Czech Republic.
"I spoke with five ministers of China's central government; I had talks with the head of the China Investment Corporation, the country's sovereign investment fund, as well as with governors of provinces and mayors of five large cities. It was a breakthrough in Czech-Chinese relations that were frozen after 2006 when a right-wing Czech government came to power. We are now committed to change that."
Mr Mládek's visit came at a time of a reset in relations between the two countries. In April, Lubomír Zaorálek became the first Czech foreign minister to visit China in 15 years; he told Chinese officials in Beijing the Czech Republic was ready to boost mutual relations, and also signalled a move away from a previous Czech focus on human rights. Indeed, in a joint statement with his Chinese counterpart, Wang Yi, Minister Zaorálek said the Czech Republic respected China's territorial integrity and did not support Tibetan independence.
Mr Zaorálek's gesture provoked an outcry from several Czech opposition politicians and some NGOs which accused him of having traded human rights for business. But the shift in approach does seem to have borne fruit – and Minister Mládek now says mutual ties can expand in several areas.
"One is trade where we would like to narrow our deficit China. We would also like to move forward with direct foreign investment in both ways. There are Czech companies operating in China but we would also see more Chinese investment in the Czech Republic. And last and not least, we have discussing the development of tourism and establishing direct flights between Prague and either Beijing and Shanghai."
Photo: Hafiz343, CC BY-SA 3.0 China is the Czech Republic's fourth largest business partner and the volume of mutual trade has increased three-fold since 2005 to about 20 billion dollars a year. However, the volume of Czech exports, mainly machinery, only reached 1.7 billion dollars in 2013 which is something the Czech government would like to change.
Industry and Trade Minister Jan Mládek believes that one area where Czech firms could be successful is the aviation industry.
"There were several people in my delegation from the aviation industry who see a whole new market emerging in China. The country is moving from military to civilian control of its aviation which is something we have also recently undergone. That means we can pass on experience and deliver know-how of small-plane traffic control. We can also train pilots, and deliver small aircraft because the Czech Republic is an important producer in this field."
The warm-up in Czech-Chinese relations is set to continue with visits of top Czech officials President Miloš Zeman and Prime Minister Bohuslav Sobotka to Beijing scheduled for later this year.
Czech firms, meanwhile, are now looking to capitalize on the government's efforts. On Tuesday, representatives of several dozen firms attended a seminar entitled Doing Business with China organized by the Euro magazine and the Czech branch of the HSBC bank. Its CEO, Michael Hordley, spent four years working for the bank in China before taking over the Czech branch. I asked him what opportunities he saw for Czech firms in the rapidly developing Chinese market.
"China is clearly undergoing a massive stage of reform right now. The new government's initiatives are largely focused on supporting urbanization, green-tech, value-add rather than basic manufacturing in the manufacturing chain, and equalization between the east and the west.
"So for Czech exporters looking to deal with China, engineering, auto, value-add manufacturing processes and machinery associated with that should be well received by the Chinese."
Some of the people here though said that it was an illusion to believe that the Chinese would let foreign companies take part in railway, road and subway construction, for instance, because they are themselves strong in these areas. Do you think Czech firms need to find a much more specialized niche?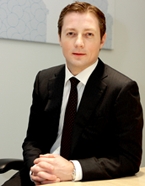 Michael Hordley, photo: archive of HSBC bank "I agree, particularly when it comes to high-speed rail. China has the longest high-speed rail network in the world, despite the fact that their network in total is underdeveloped. So they would probably be less reliant on Western manufacturers in this. However, certain parts and stages of the supply chain may require specialist engineering skills that can be found in this part of the world.
"Likewise, there will be other examples of infrastructure-related development where Western companies have an expertise. I drew a parallel between some of the French water- and waste-management companies that are active in joint ventures in China that way.
"So it's really about doing the research, understanding what the key strengths of your business are, and then delivering that proposition and articulating in such a way that makes it aligned with the core values and the benefits of the underlying Chinese economy that your business can bring."
One Czech company that has been successfully operating in China is Linet, a leading manufacturer of hospital beds world-wide. The firm's director, Tomáš Kolář, shared his experiences at the seminar.
"China is a really demanding market where only those can survive who are already successful in the US or in western Europe. I would also like to say that in our business, medical equipment, China has a really high protection levels, I'd even say a barrier, in the registration of imported medical devices.
"There is a big misbalance between what we have to do and what the Chinese companies do. It takes us about three years to register our products while it takes the Chinese some six months.
"On the other hand, it is a great opportunity because there is a high demand for high-level and high-tech medical equipment, especially in class A hospitals, and that's why business in China is still very attractive for us."
Have you face intellectual property issues in China? We've heard the Chinese government has been trying to deal with them, so what's your experience?
"This has been a big issue in China. I'd say that there are many copies of our products and in fact, they don't care that much. It's very difficult or almost impossible to fight it.
"Another thing is that China has established their own intellectual property system, and they now protect our solutions. It can happen that you come to China with your own product, protected in Europe and the US, and you find it is already registered in China by someone else. That's a growing difficulty as well."
When it comes to dealing with Chinese business partners, we have heard about the crucial importance of establishing and maintaining personal relations with them. Does this work on political level as well? Czech foreign minister recently visited China in what has been described as a reset of Czech-Chinese relations – does this have any effect on your business?
Photo: archive of Linet "Not political but governmental relations do. The Chinese don't care if you are a Communist or conservative or Social Democrat or whatever but a governmental relationship is important.
"That's a big privilege to come as part of a government delegation to meet Chinese officials. I also believe that many of our partners have good contacts with local politicians but frankly speaking, politics as we understand it doesn't make much sense in China. They are much more pragmatic."
So when the Czech president or prime minister receives the Dalai Lama in Prague – does this affect your business at all?
"Always. That would have a big impact. But we don't have to talk about the Dalai Lama. Last month, the Czech president spoke very insensitively about Muslims and Islam and it has had a very strong negative effect on our business in Saudi Arabia. I think we should be very balanced and sensitive to foreign cultures because the impact can be very direct and very quick."