Government planning sell-offs to raise money for roads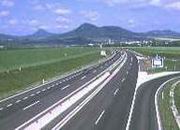 The government is set to launch a slew of sell-offs in order to raise money for new roads, it was reported this week. It is hoping around a third of the 45 billion CZK needed for the state infrastructure fund in 2008 will come from privatisations. Later this year it should offload a 7% stake in power giant CEZ (the state will not let more of the company go for security reasons). But there is bound to be more discussion about other privatisations the government is preparing: Prague Airport, Czech Airlines, the cargo unit of Czech Rail, Czech Post and the Budejovicky Budvar brewery could all go on the block.
Skoda Auto biggest company
Skoda Mlada Boleslav, photo: www.skoda-auto.com Skoda Auto is the biggest company in the Czech Republic with revenues of over 200 billion CZK (around 9.5 billion USD) last year, according to an annual ranking published by the Czech TOP 100 association. Skoda was followed by power generator CEZ, Unipetrol, RWE Transgas and Foxconn CZ. Czech TOP 100 also said Skoda Auto was far and away the country's biggest exporter: the Mlada Boleslav-based carmaker exported almost 180 billion CZK in cars in 2006, almost ten percent more than the previous year. The second biggest exporter was Unipetrol, with 44 billion CZK. By the way, Skoda has just begun production of its new Praktik model. The Praktik is a two-seat van version of the Roomster.
Heineken buys Krusovice, increases market share to eight percent
Dutch giant Heineken has just bought the Czech brewery Krusovice from Radeberger Gruppe KG. Heineken also owns the Czech brand Starobrno and this week's acquisition brings its share of the Czech beer market to eight percent, moving it up to third place in terms of market position. The royal brewery of Krusovice, located around 70 km west of Prague, was founded in 1517.
Patria hoping TV ads will persuade Czechs to try investing in shares
The company Patria Direct, part of the Patria Finance group, is hoping a new television advertising campaign will encourage more Czechs to buy shares, Lidove Noviny reported. A spokesperson told the daily that investing in shares in the Czech Republic is considerably less common than in advanced countries, particularly the United States.
Air conditioning affecting patterns of power consumption
The consumption of power in the Czech Republic has been affected by the growing popularity of air conditioning systems, Mlada fronta Dnes reported on Friday. For instance, electricity consumption usually falls in May, but this year there was a 3.7 percent increase; that was also influenced by higher industrial output, but the use of air-conditioning was also a factor. Makers of air-conditioning units report a surge in demand. Meanwhile, high consumption means technicians at power stations have so far been unable to follow their tradition of using the summer period as a chance to do repairs.