Czechs Today
Peter Sis - illustrator & author of magnificent children's books
The New York Times has called his work "magnificent", Publisher's weekly "stunning": he's Peter Sis the Czech-born children's book illustrator and author of such titles as The Starry Messenger, A Small Tall Tale from the Far, Far North, and The Three Golden Keys. In this edition of Czechs Today we look at Peter Sis' career including his very latest book and talk with the author himself.
Peter Sis, photo: CTK Peter Sis is truly a Czech original: an illustrator, who, over the last thirty years, has become a master in his field. His style is instantly recognisable: endlessly engaging, thoroughly-detailed drawings that rely on pen and ink, oil pastels, or watercolours today. Sis' settings have included the cold Arctic, a magical Prague of night-time dreams, and modern and vibrant New York. And, his main characters have been adventurers like Columbus, scientists like Galileo, or even his own daughter. As we noted earlier, his books have received great critical acclaim.
But, how did Peter Sis come so far? The reasons are no doubt complex: a balance of talent, determination, and luck, but also the willingness to take risks: when Sis came to the United States for a short-term project mid-career, he ended-up staying on, even against his expectations. He was nevertheless warned by fellow illustrator Maurice Sendak, (the author of such classics like Where the Wild Things Are), that it wouldn't be easy. Sendak told him if he wanted to succeed there was one thing he had to do first: to get out of Los Angeles A.S.A.P.
The letter from Jacqueline Kennedy Onassis"He called me and said 'what the hell are you doing in a place like Los Angeles?! That's the worst place for anybody creative!' - he's got this whole thing with Tinsel Town. But, I didn't know any better, Los Angeles was the only place I had been. So, the only place you can seriously consider doing children's books is the East Coast, so I knew I would eventually have to get to New York or Boston. I was able to buy an old car, a beat-up Mustang, and I was so excited to get going I didn't even buy a map. I thought it would be easy getting from L.A. and I remember I had made it as far as San Antonio, Texas, I thought 'I should turn left!' There was this state trooper who was standing there. I asked him if he knew the way to New York!"
Perhaps the state trooper helped, perhaps not: the fact of the matter is that Sis travelled cross-country to the Big Apple, not unlike one of his characters on a magical journey. He set-up shop determined to become a successful children's book author, and it was sometime afterwards his work was noticed by one of Doubleday Publishing house's most famous editors, none other than former First Lady Jacqueline Kennedy Onassis.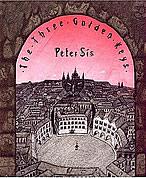 The Three Golden Keys"I had done a book for Random House on the life of Christopher Columbus and all of a sudden phone call and the person said she was Onassis. And of course I knew who she was but somehow it seemed so improbable that it was the same person. Somehow, you think you might be true, but you don't want to really believe it. So I came to the lobby of Doubleday and of course I could tell it was her. I could have said something like 'Oh, my God!' but I didn't! I started dealing with her like she was just an editor at Doubleday, so she started to play this game like I don't know who she is, and I started to feel like she didn't want me to know who she was. Sometimes she would say 'I have two kids', and I would say 'oh, you don't look like you have two kids', or she said 'You know, I used to live in Washington', and I said 'oh really' which was ridiculous! And then we would go and have lunch. Everybody was looking at her, but thought nobody knew who she was because she had these giant shades on. But, she was a wonderful person as an editor, and what she did for me was incredible luck."
Jackie O. encouraged and oversaw Sis' work in one of his most personal books to date, The Three Golden Keys. Unfortunately, she did not live to see the book's release.
The Tree of Life Set in a mysterious night-time Prague of a long-forgotten past, The Three Golden Keys sweeps the reader into memories of a lone storyteller guided throughout the city by a black cat with shining eyes. We travel through an ancient town, introduced to spidery legends that hide behind bookshelves and iron doors, in silent gardens and silent towers, worn into the very fabric of the city. But most of all we are touched by a personal testimony told from father to daughter, none other than Sis' Madlenka, to whom the book was dedicated, to let her know, one day, where her father was born.
Then, on the inside jacket Sis also addresses the late Mrs Kennedy: thanking her for encouraging his dream.
After his first successes, Sis could concentrate on further projects and it is notable and instantly apparent to any reader of his books that his main characters are often non-conformists who face difficult tasks in their lives, and have to weigh the consequences of their actions. Galileo in his famous argument with the Church, Eskimo Jan Welzl - the Czech adventurer who spent thirty years in the golden north - and, in Sis' latest book, The Tree of Life, mild-mannered naturalist Charles Darwin, who turned Christian doctrine on its head with the theory of Evolution. Peter Sis says he was perhaps drawn to such characters having grown-up under totalitarianism, where almost everyone was compromised, and only a few dug in their heels.
"I think I was conformist in many ways, I mean I was and I wasn't: I did play along, it was part of the system as a small child, completely brainwashed I guess. And then, we were sort of in the underground culture with rock, but we never went as far as someone like Vaclav Havel. I remember how we were looking at the group of dissidents around Havel, and we told ourselves that that was too much. "
Sis' illustration style itself provides something of an answer: wide pages offering democratic choice, the child's eye allowed to wander as it likes. One can start in the corner or look at dominant elements on the page, or discover small details within. In a Sis book, especially in his latest, there are frames within frames, unfolding pages, tiny details, illustrations of artefacts, snippets of text, diaries and drawings, personal portraits, maps of the world, and forgotten paths.
A case in point is the drawing of a Galapagos island smack in the centre of The Tree of Life: there are pictures of the animals that influenced Darwin's discoveries, while a secret valley hides a tiny skull. That echoes how Darwin shook our perceptions of what it means to be human. In his ode to the naturalist, Sis, too, reminds us what it means to be alive. That he does so in the most entertaining manner, is a wonderful reward: it can be an illustration of a turtle carrying the world on its back, or Darwin himself hiding among the trees.
Note: Still convinced you're not familiar with Peter Sis' work? Well, if you ever saw Milos Forman's academy-award winning Amadeus, starring Tom Hulce and F. Murray Abraham, and you can recall the film's poster, that too was done by Peter Sis.