And now it's time for this week's edition of Czechs in History, in which we examine the lives of famous figures in the history of the Czech Lands. Today, we take a look at Czechoslovak President Eduard Benes...
It was hard to know where to start off today's show. As we are dealing with Eduard Benes, the second Czechoslovak president, the obvious choice might have been Prague Castle. Instead, I am at the top of Wenceslas Square. Why? Well, Benes was president during a dramatic period in Czech history, and twice he had to give way to hostile forces. These are both controversial decisions for the Czechs. The first time was in 1938, when the Munich Agreement was signed, which led to the occupation of Czechoslovakia by the Nazis in March 1939, and the second was in February 1948, when the Communist Party came to power. Both times, in March 1939 and February 1948, the Nazis and then the Communists paraded in triumph on this square...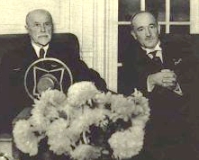 Tomas Garrigue Masaryk and Edvard Benes Eduard Benes was born in the West Bohemian village of Kozlany on May 28th 1884. There is little mention of his childhood, but after high school he studied philosophy and law in Prague, France and Great Britain. He received his doctorate in 1909, and then taught at the Business Academy in Prague. He entered the political stage during the First World War, when he joined up with TG Masaryk, who was to become Czechoslovakia's first president in 1918.
Up until 1915, Masaryk did not favour an independent Czechoslovakia, but wanted greater autonomy within the Austrian federation. Once he decided to go ahead with obtaining independence, he chose Benes, rather than any other Czech politician, to go abroad to represent Czechoslovak interests. The reason for this was, as professor of philosophy Erazim Kohak told me, his global vision:
By this time, Adolf Hitler was firmly in power in Germany. He raged about the plight of the Sudeten German minority in Czechoslovakia, and insisted Czechoslovakia hand over this region. Benes looked to his allies in Britain, France and the Soviet Union for help, but they were reluctant to get involved. In the end, with the help of British Prime Minister Neville Chamberlain, the Munich Agreement was signed, which allowed Germany to annex the Sudeten Lands, leaving Czechoslovakia a rump state. Benes agreed to adhere to the Munich Agreement, abdicated and went into exile. He went to the United States and taught political science in Chicago. This is the second point in his career where Benes has received heavy criticism. Critics say that he could and should have defended Czechoslovakia against the Nazis. I put this point to Erazim Kohak:
At the end of the war, Benes returned to Prague, and issued decrees that all Sudeten Germans remaining in Czechoslovakia were to be deported. This is perhaps his most controversial decision, and remains a bone of contention with many Sudeten Germans, now living in Austria and Germany. Were these decrees really necessary?:
Is the criticism of Benes' actions, particularly in 1938, fair? What role did he play in the history of Czechoslovakia, and what significance does he or should he have for the Czech people more than fifty years after his death?: