Czech Life
Urban cycling accelerates in Prague, with some speed bumps
The past few years have seen a rapid increase in the number of cyclists in Prague. As Praguers become more concerned with healthy living and the environment, more and more of them choose to cycle both for recreation and daily travel.
Hills, cobblestones, narrow streets and multi-lane freeways – Prague is just not an easy city to maneuver on two wheels. Yet, with every year more and more Praguers are choosing to use a bike not just for recreation but also for daily use. According to some estimates, in the summer of 2010 cyclists made up 3.1 percent of all traffic in the city, and that number has been growing. The last two city hall administrations have made an effort to support Prague residents in choosing to use bikes as a means of transport. But many critics say there is still a long way to go for Prague to become a truly bike-friendly city.
I spoke to Vít Masare, managing director of the Prague-based civic association Auto*Mat that advocates for alternative modes of transportation, about what has happened for cycling in the city since the new mayor, Bohuslav Svoboda, took over in November 2010:
"There are definitely many more cyclists in the streets of Prague. The last survey dates back to 2010 and it said that somewhere around 60 thousand people use bicycles as a means of transport. Some of the worst and most dangerous places for cyclists in Prague were improved. But when the new city council was elected, the position of cycling in the structure of municipal power lost the non-systemic support from the mayor. It took a year and a half for some position to be stabilized."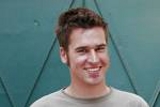 Vít Masare But lack of structural support within the Prague City Hall is not the main problem, says Daniel Mourek, the Greenways International Affairs Coordinator at the Partnerství Foundation and the Vice President of European Cyclists' Federation, who is also a member of the City Hall's Committee for Cycling:
"The political will is not there. We were really disappointed to see the budget cuts of 45 million crowns year-on-year. People started cycling in Prague and we were excited, because all of a sudden people realized that the bicycle can be a means of transport. And they were expecting the city to increase its involvement and investment in cycling, but this hasn't happened. And I think this is the worst message you can send to the bicycle users.
"The mayor does show some interest, but still the big money goes into the Blanka tunnel, into big construction for cars, which is a model that every other city is not developing any more. Even American cities are trying to get rid of old highways cutting through the city – like Boston, not to mention European cities. This is a model from the seventies."
Although a grander vision may be lacking, at least some cycling infrastructure is present in the city. Prague now has 144 kilometers of bike paths, and more than 500 kilometers of cycle lanes marked on the city's thoroughfares. The City Hall has also installed over 1,200 bike stands around the capital.
Still, many Praguers choose not to use their bike on a daily basis because of safety and other concerns. And those who do, feel that there is still a lot that would have to change for them to feel comfortable on the roads.
Photo: City of Prague Here is what some of them had told us:
"It's very dangerous. You know, the cars and the drivers are very aggressive. So I'm afraid that I could get hurt or even killed."
"Right now, everything is working against you. You don't want to ride on the sidewalk, because it's bad for the pedestrians as well. Pedestrians are annoyed by bikers all the time. The truck drivers, the cars, the trams – nobody is positive about bikes. For it to be a real bike city, you'd need to have separate bike lanes, separate bike lights. As in cities like Copenhagen, or Berlin."
"In some places you really need to get rid of parking spaces, because there just isn't enough room for all these different kinds of traffic. I think it would make the streets much nicer."
It seems that most regular and recreational cyclists that I spoke to in Prague feel not only unsafe, but also somewhat overlooked on the city's roads. And I wondered if that can really change in a country that has the greatest number of cars per capita in the whole of the European Union.
I asked Daniel Mourek if there is a silver bullet that would help place Prague on the map of modern, bike-friendly cities:
Daniel Mourek "It's not so difficult, you don't have to build much for cyclists. There are two essentials – we saw it in practice in Vancouver – make 80% of the streets have a 30 kilometer speed limit. Then you don't have to do much for cycling. Because 30 kilometers is the speed limit where the cyclists are still safe. If you have 40 or 50, the chance that you get killed or seriously injured increases tremendously.
"Plus, where the speed limit is not 30 kilometers, you have to provide infrastructure, ideally, physically isolated from the traffic. Because if you have a street for cars with a 50 kilometer speed limit, and there is only a bike lane without a physical separation, elderly people will not go by bike, lots of women and lots of kids won't either."
At least one of Mr Mourek's suggestions is being taken seriously both by the main City Hall and by some borough administrations. Following the initial proposal by Auto*Mat, and thanks to the open-mindedness of the Prague 8 municipal council, Karlin became Prague's first district to introduce a so-called Tempo-30 zone in August of this year.
This essentially means that in a designated residential area the speed limit for cars in all smaller streets is limited to 30 kilometers per hour, leaving the 50 kilometer speed limit only on larger roads encompassing the zone. Tempo 30 gives cyclists the possibility of going in both directions even on one-way streets, and a generally safer and cleaner environment. Marek, who rides to work every day, is impressed by the change.
"I have to say, it's very comfortable, and it feels much safer. Not just for cyclists but for pedestrians as well. Of course, sometimes drivers do not respect the speed limit, but it just changes the whole atmosphere in the neighbourhood."
Another change that civic groups and city government do agree on is the expansion of a bike sharing system, which has had a lot of success in a number of European and North American cities. Monika Krobová Hášová, chairman of the Prague City Hall Committee for Cycling, says funding has already been allocated.
"An essential next step, which is looking very realistic at this point, is creating bike sharing schemes all across Prague. The City Hall is already preparing the funds for this. We will start with about 50 million crowns. We are preparing two possible versions – one would be for normal bikes, and the other for electric ones. No European city has bike sharing for electric bikes so far, so Prague would be the first one."
Tempo 30 zones and a bike sharing network may help improve the situation for cyclists in some parts of Prague, but it probably won't make it more convenient for those going from one part of the city to another, which is unavoidable for many people on their way to work. Until bike lanes are not only marked but also separated on larger thoroughfares and the historical center is made more bike-friendly, many bikers will simply not want to take the risk. And these kinds of systemic changes may be slow in coming, judging by what Mrs Krobová Hášová told me:
"Prague city hall will build new bike lanes but only in places where there is room for them. We cannot really infringe on the historical parts of Prague. It is important for us to retain Prague's character. I would say that cyclists do not have precedence here, we have to admit that. There really aren't that many of them. I think that pedestrians are a much greater priority. Because, realistically, we're all pedestrians at some point or another and cyclists only once in a while."
Although many agree that cycling infrastructure should be a part of any modern city, it does not seem that these concerns lie at the core of an overall vision for the development of Prague. At least, not yet.