Czech Life
The Little Clown Project – a new generation of Czech volunteers at work
In the Czech Republic, where the state controlled everything under Communism, volunteering does not enjoy a long tradition. But some 20 years after the demise of the former regime, more and more young volunteers are actively changing the face of their country. One of them is Petra Milsimerová, who runs a project called Little Clown.
Petra Milsimerová Petra Milsimerová is getting ready to head out to a children's home in Milovice, a small village near Prague. I meet the shy 27-year-old at her two-bedroom apartment in the city, where she lives with her boyfriend and two dogs. Petra works as a pre-school teacher, she is doing a master's degree – and spends most of her free time volunteering.
"Sometimes people ask me: Why do you volunteer? And I say, I don't know, because it's just some power coming from inside. I just want to be with other people, I like people, especially children. And I like to organize new things, and volunteering is a way of trying it, of seeing how you can do that."
Volunteering is still a relatively new phenomenon in the Czech Republic, where the state controlled everything under communism. Petra has been volunteering since she was 18, nearly ten years, and it is young people like her who are slowly changing the legacy of the former regime.
"I think it's a very enriching way to spend your free time, because you can do the activities with these people that you would do on your own, for example go for a walk, and it brings me a feeling of also being useful for these people in my free time. It brings me a better feeling than if I went there just on my own."
Petra now runs a project called Little Clown, which is connected to the Czech citizens' association Provázek. Petra and her team travel to childrens' homes to paint kids' faces and bring a bit of joy into the lives of the thousands of Czech boys and girls who grow up in such homes – another legacy of communism, when institutionalized care was the only option for children who could not be raised by their parents. I went along with Petra and the Little Clown volunteers on their latest trip.
It's Sunday at noon and Petra meets her group of helpers at the train station. Milovice is only about an hour from the Czech capital, but volunteers from Petra's Little Clown organization are willing to travel to children's homes all over the country.
Petra buys a ticket for the whole group, and then we are on our way. On the train, the group of volunteers chats, laughs, but also plans activities for the future. Though most of the Little Clown members do not work in the charity sector, volunteering is a big part of their life. Claudia Cruz, who has been coming along on Little Clown trips for some months now, works in advertising.
"Normally, my hobbies are painting, and teaching kids how to paint. So when I can combine kids and painting, I am very happy. And I was telling the girls, usually, when you paint, it's very lonely work, because even if you feel good afterwards, it's still only you and the canvass. So when you do it with kids, it's very fun. It's similar to interactive painting, because they tell you what they want, and how they feel after. So that's why I like it."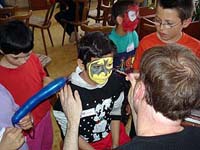 Today, the Little Clown team has arrived early – the children, aged three to six, are still taking a nap. Petra, though soft-spoken, is an organizational whiz. She quickly directs her helpers to set-up craft stations, where kids can make clown hats, have their faces painted, or draw pictures. Improvisation is also a big part of the job, she says.
"We will have more little kids, who are new in this institution, and we will see how it works. And maybe if any kid gets bored, we could do something special with this kid. But we have enough volunteers. There will be one volunteer for each kid, so I think it will work well."
The kids pile into the room and Petra sings an introduction song with them. Once everyone knows each other by name, she and her team transform the children into lions, clowns, vampires and princesses – or cartoon characters.
"They choose Spiderman or Batman, because they know them from television. It's quite usual that they watch television a lot here, because if the nurses have a lot of them, sometimes they just put the TV on, when there is a problem with one of them and they need to distract the other ones. So they know these heroes from television, and they want to be like them and they want to be the same as they are: good, helping people, brave, and that's the reason why I think they chose it."
Later, Petra is helping a little boy cut out a mask from colored paper. The kids are not just entertained by the volunteers and the activities they offer, but can also pick up some skills. What can they learn? I ask Petra.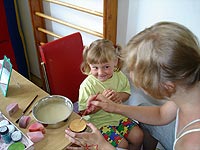 "Training cutting with scissor, doing this, because we have these special scissors with different knives, some of them make waves and some of them make triangles, and children really love it, cutting with these scissors."
Meanwhile, volunteer Alena Protivínská is busy at the face-painting station. She has been coming along on Little Clown trips for about a year now.
"I come because I enjoy it. I love children, I don't have any of my own, but I do enjoy kids. And I love to be here, it's so much fun all the time, and I just have a great time with all these people."
At the end of the four-hour visit, Petra says she will now play a special game with the children. It has become a sort of tradition.
"We will now play the game 'Pass the Parcel', so it's a big parcel with toys inside. We pass it around, we sing, and when we stop singing, the one who is holding the parcel opens the first wrap, and there is one toy, then it goes around again, there is another wrap with a toy, and so every child gets a small present."
"Pass the Parcel" is a big success with the boys and girls. Then it's time to pack up and head back home. While the others are cleaning up, I ask Little Clown volunteer Lucie Macáková about Petra's motivation.
"It makes sense to her. I think it makes the sense of her life. I feel like she's not the kind of person who prefers to make money. But she's definitely the person who prefers to work with people and help them, do something that has human value."
Meanwhile, Petra is making sure we leave the room as tidy as we found it. She's wiry and energetic, even after a long day, and laughs, rather than worries, when things get stressful. Now, she is relieved that today's Little Clown visit has gone so well.
Veronika Buchárová Another volunteer, Veronika Buchárová, has a similar reason for engaging in the Little Clown project. I ask her if she had fun today.
"Yes, I had fun, I always have fun, that's why I keep coming."
And how long have you been coming?
"With this project, three years. But I've been involved in Provázek for seven years."
And why do you do it?
"That'd be a really long answer. Because I am a teacher, and I work at an international school, so we have the kids of rich people. So helping the less fortunate kids, that's why I do it."
Petra also believes that even taking a little time out of your schedule can have a profound effect. Petra says that often, her volunteers bring a kind of energy and motivation to their activities that set them apart from employees of children's homes.
"I think volunteering makes a difference, because there's a difference between people doing something as a job and people volunteering. There's a different approach."
In the summer, Little Clown also engages in outdoor activities with the children. Petra Milsimerová, part of a new generation of Czech volunteers, is even planning to bring her horse along with her on the next trip.
The episode featured today was first broadcast on April 23, 2011.