Current Affairs
Police stage mass raid on shops suspected of promoting cannabis
The Czech police have begun a mass raid on so-called grow shops, which sell equipment for indoor gardening, and often for growing marijuana plants. Authorities have already charged a number of people connected with these stores with distribution and promotion of illegal substances, but critics say they cannot be held responsible for the behavior of their customers.
Photo: archive of Masáže Mawen This week's raid on grow shops is one of many steps the police have recently taken to curb drug use and distribution in the Czech Republic. This time, though, instead of focusing directly on drug dealers and users, they have honed in on a more grey area – the places where the necessary tools of the trade may be purchased.
Since Monday, the police have inspected at least 50 grow shops around the county and have charged at least three people, with dozens of others being suspected of distributing and promoting marijuana use. The police have also confiscated fertilizers and equipment from grow shops, closing a number of them down. The raid is supposed to continue for possibly another few weeks.
Police spokeswoman Ivana Ježková says grow shops have often been overlooked in the fight against marijuana distribution.
"Since 2007, we've noted a marked increase in cannabis farming and production of marijuana. This is inadvertently linked with the rise in the number of stores and online shops that sell the technology necessary for these activities."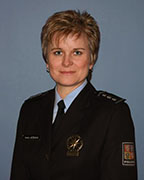 Ivana Ježková, photo: archive of Czech Police Grow shops offer customers equipment and seeds for cultivating different plants, and are known for selling tools that can help people grow cannabis plants, including appropriate fertilizers and lamps. Last fall, the Czech Supreme Court ruled that providing all the necessary materials and equipment for the cultivation of illegal plant life can be considered a legal offense. The police say, this recent raid focused specifically on grow shops that offer the full set of tools.
The Czech Republic is known around Europe as being one of the countries with more lax drug laws and enforcements. The law on possession of marijuana is relatively cryptic, allowing an individual to carry or grow the substance for personal use, in amounts not more than small. Selling, or growing and carrying the drug in large amounts is strictly persecuted by law.
Marijuana remains the most widely used illegal drug in this country. According to data collected two years ago by the European Monitoring centre for Drugs and Drug Addiction, around 25% of adults claim to have used marijuana at some point in their lives.
Michal Otěpka, owner of one of the grow shops inspected, says that store employees cannot be responsible for what customers choose to do with the products they purchase:
Photo: Kristýna Maková "We have tried to do everything according to the law. We sell legal products and we tried to avoid even hinting at any advice on growing cannabis; We have discouraged customers from doing anything illegal. We sell products that help grow plants, I cannot influence what people then do in their homes. If the police are not able to uncover this, they cannot make it our responsibility.
The question of the burden of responsibility in cases like these remains to be answered. It will mostly depend on what the police will actually find in the grow shops. But authorities are reluctant to reveal the details about the evidence they have gathered so far, since the inspections and investigation are ongoing.