Current Affairs
Czechoslovakia marks 56th anniversary of liberation
To hear the following story in its entirety, click here: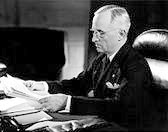 Olga Szantova
explains, played a crucial role in the liberation of Prague.
That call for help to Russian and American forces was broadcast from the Czechoslovak Radio building on May 6th - one day after the start of the Prague Uprising. American forces were in fact already deep inside Czechoslovak territory - General Patton's troops had liberated most of West Bohemia by May 5th. Professor Jaroslav Blahos, president of both the Czech and World Medical Associations, was a 14-year-old schoolboy when, on May 5th 1945, American jeeps rolled into his village in south-west Bohemia.
So while the Americans were stranded in West Bohemia, and the Russians were still several days away from the Czech capital, the people of Prague launched a fierce assault on the German forces. Dr Jaroslav Kohout was one of the many young men who took up arms against the Nazi occupiers.
The Germans surrendered to the Czechs on the evening of May 8th - one day before the arrival of the Red Army. German troops started fleeing Prague that evening, to avoid capture by Soviet troops. Russian tanks rolled in on the 9th, only catching the last of the retreating Germans. The role of the Red Army in the liberation of Prague was wildly exaggerated by Communist propaganda, but among many inhabitants of the Czech capital there were outpourings of genuine emotion. Journalist Miroslav Prchal was among the crowds when the Soviet tanks rolled in.
Miroslav Prchal says the liberation by Russian soldiers left a deep imprint on the Czechoslovak psyche:
Nick Carey
.
The post-war euphoria was dampened by the 1948 Communist take-over and the persecution of those who had fought to defend their country. But for Erazim Kohak and many others who remember the Prague Uprising, it remains an almost spiritual experience.