Current Affairs
Czech steelmakers fear flood of Chinese imports
China's relative economic downturn means that a lot of its low cost steel is being exported around the world with Europe one of the main target markets. And already worried Czech steel makers fear that even worse might be on the horizon if changes soon abolish Europe's opportunity to take protective steps.
Photo: Czech Television In the last quarter of 2015, imports of steel into the European Union soared by 50 percent compared with the same period a year earlier. For the whole of 2015, the figure comes to around 20 percent. The main exporters are Russia, Ukraine, and China. More of the same is expected for this year with low cost Chinese imports of particular concern for European steelmakers.
To give this a bit of context, China is by far the world's biggest steelmaker, accounting for around half of world production, and its increasing production overcapacity exceeds the manufacturing capacity of all European Union steelmakers put together.
Czech and other European steelmakers warn the current wave of low cost steel imports into the EU is only a small taste of what could be to come if China wins a change in its trade status at the end of this year. The recognition at stake is Market Economy Status with Beijing arguing that if this is granted then the European Union will have to drop its biggest defense measures against cheap steel imports, so-called anti-dumping duties.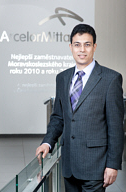 Tapas Rajderkar, photo: archive of Arcelor Mittal Lawyers are arguing whether the first step automatically implies the second, but Czech steelmakers are insisting in any case that Brussels stands firm and that the Chinese steel industry with its local market protection, lax environmental rules and state aid, should in no way be given a free run at European markets.
Czech producers, such as Arcelor Mittal Ostrava, Třinecké Železárny, and Vítkovice Steel, are ringing the alarm bells and say around 15,000 direct jobs and around 45,000 more linked to the steel industry in Moravia and Silesia could be at risk.
Chairman of the Board of ArcelorMittal Ostrava, Tapas Rajderkar, told Czech Television that China in no way qualifies for Market Economy Status.
"In the case of China they are being supported by the government and the government missionaries, so China does not fulfill four out of the five conditions that are needed."
Basically the five conditions call for companies to be operating in a clear legal environment where there is no state intervention and help.
And the Czech government as well has the problem of Chinese steel imports on its radar screen. It is one of the issues that will be broached by Minister of Industry and Trade, Jan Mládek, in a meeting with his Polish counterpart today. The Polish steel industry has similar fears to the Czech. This is what the minister had to say:
Jan Mládek, photo: Filip Jandourek "At the moment we have asked the European Commission that if they give China Market Economy status then there should be some reasonable mechanism which allows the Czech steelmaking sector to be protected in some way."
Talks over China's status are just starting at the moment but will be the centre of major attention in the months to come.