Czech Books
Iva Pekarkova: a Czech writer at home on both sides of the Atlantic
Welcome to "Czech Books", our new fortnightly series devoted to Czech writing and writers. In a series of interviews over the next few weeks the writer and musician Pavla Jonssonova, well known from the popular band Zuby Nehty, will be talking to a number of Czechs writing today. She starts with one of the most interesting contemporary Czech novelists, Iva Pekarkova, whose books are filled with energy, eroticism and heroines who are not afraid to take their fate into their own hands. Her first novel appeared in English as "Truck Stop Rainbows" in 1992, and is about a young woman who seeks freedom on the open road in the unlikely setting of communist Czechoslovakia. And Gin, the heroine of her more recent novel "Gimme the Money" is just as fearless, in a story inspired by the author's own experiences as a New York cab driver in the 1990s. Readers in English will soon have the chance to get to know another Czech heroine or anti-heroine, when Iva's novel "The Scars" appears later this year. The action heroine is an untypical feature of Czech writing, and this was what interested Pavla Jonssonova, when she caught up with Iva a few days ago in a Prague café.
Pavla Jonssonova: "The first book that appeared in English, "Truck Stop Rainbows", has a heroine Fialka. I'd like to ask about the plot of the book and the action heroine Fialka."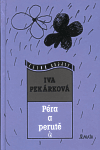 Pera a perute - Truck Stop Rainbows Iva Pekarkova: "Well, at the beginning the plot of the book was supposed to be very simple. In a way it was a list of all things which made me really, really angry in Czechoslovakia under communism. But in the end what happened was that I had this heroine Fialka - she was supposed to travel from one end of the country to the other - she wasn't allowed to go abroad - and she was supposed to have this thoroughly nice life, but nothing was going to happen, but then, I suppose, I gave her some kind of life and she stopped listening to me and she became a highway hooker without my consent. But as she was her own woman, all of a sudden I decided that I would go along with it and simply do it. So that's how she became a bit of an action heroine, I suppose."
For most of us the unknown, the mysterious and the distant converge in a single desire to go, to tear through the membrane of daily repetition, to rush after something secret, dangerous and boundlessly pleasurable. In a certain sense my longtime need to hitchhike was an expression of these human desires. My nighttime dialogues in warm semi cabs on the road were always with someone unknown. I rushed headlong across distant landscapes and the darkness all around breathed mystery.
Pavla Jonssonova: "If we look at your experience being a taxi-cab driver in New York, the experience that you describe in your "Gimme the Money", that I think really is an example of an action heroine."
Iva Pekarkova: "Well, actually it's funny because some people read it in English and said that actually for a taxi-driver my heroine Jindriska - or Gin - was actually quite passive in many ways and she wasn't trying to rob people, she actually was very nice, but I suppose in a way she became an action heroine because she could protect herself when her life was at stake. I gave her some powers which personally I don't really have, and thank God I never had to protect my life that way, but I can imagine that if I was in that kind of situation I would try to act similarly to what she did."
"PH rested his tired right hand with the gun on the edge of the partition. He panted with exertion. Gin was slowly lifting her left hand with two rumpled twenty-dollar notes. "Bring them right here into my hand, that's right". Gin was handing him the notes with her left hand. She stretched her right hand behind her shoulder. And before PH had the time to realize what was happening, he was already screaming with pain, trying to pull back as the partition hit his wrist. He yelled: "Shit, I'm going to make you pay for that." But at that moment his gun had fallen on the front seat, and the car was divided into two bubbles. In the rear one, PH was yelling like they were vivisecting him, rubbing his damaged wrist. In the front one, next to Gin, the gun was lying. It was unbelievably tiny. It's grip was inlaid with mother-of-pearl, and alongside the barrel, which in this position didn't look deadly at all, a notice engraved in the metal read: "Berretta USA corp. ACCKMD. Read manual before use."
Pavla Jonssonova: "I was very pleased to hear that "The Scars" is coming out in English very soon can you please tell us about that novel. I hear that you wrote it originally in English. Is that an exception in your writing?"
Gimme the Money Iva Pekarkova: "Pretty much, but actually the same thing could have happened to "Gimme the Money", which is the book I wrote before. But I was kind of too lazy to write it in English because of some passages which I found hard to do in English. And then I had to translate the book into English myself, so I suffered through the translation into English. So the next time I wrote the book "The Scars" and decided to write it in English. So I did, because most of it happened in America, and places like that, and it could have all happened in American English."
Pavla Jonssonova: "Can you please tell us a little bit about the story of "The Scars"?
Iva Pekarkova: "The story of the scars - I would say it is perhaps the least autobiographical of all the books I have written to date. It was based on a newspaper article, so to speak, I saw here in the Czech Republic some time in the early 90s, which was about some woman who somehow got to Turkey, and she either tried to smuggle heroin out of Turkey or she was just accused of it - nobody will ever know, but she was caught and brought to some strange place where they made her make porn videos. And because she had a beautiful body, they didn't want to destroy her body, so her keepers destroyed her face. They would burn her face or make little incisions with razor blades on her face, because they didn't really need her face, they needed her body. And then she somehow manages to come back - so far still the newspaper story - and then she's in Prague. And this is the end of it. I started wondering, what would a woman like this do? She's disfigured in the face, she can hardly wear a burka to hide it, everybody now knows her in Prague, or at least she believes people know her, based on the newspaper article. So how would she solve it? So I tried to figure out how she would, so I sent her to America. She somehow made it to America, where she was looking for complete freedom and anonymity. And then she goes through a downward spiral through various neighbourhoods and various lifestyles, which I knew from my previous stay in New York, until she finds herself homeless, and from then, to my mind in a very typical American way, she all of a sudden makes it back to among the living, and even somebody pays for the scar removal and this is the end of the book."
Pavla Jonssonova: "And what are your action plans for the future?"
Iva Pekarkova: "Well, my action plans are that I plan to go to Nigeria in a little over a week, because I would like to see what the country actually looks like. I was really taken aback by what happened here at the Nigerian embassy when a Czech doctor shot a Nigerian diplomat to death, and I was also very surprised by the reaction of the Czech press, which didn't seem to be very much concerned about the guy's death, but were very much concerned about this Czech doctor getting himself involved in some kind of scheme in which he lost so much money. So I thought it's not bad to go to Nigeria and to see what the country's about, and hopefully learn something about it and the people and whatever."