Arts
Singer and songwriter Karel Hasler was born 125 years ago
Every Czech knows the tune. "Ta nase pisnicka ceska" or "That Czech Song of Ours" was voted one of the ten greatest hits of the 20th century in a poll conducted by Czech Radio in 2000.
Karel Hasler, photo: CTK Its author and singer, Karel Hasler, was born 125 years ago this month in Prague. After a brief acting career at the National Theatre, Karel Hasler became a popular cabaret actor and singer. He wrote and sang songs about the beauties of Prague and also about social and political issues. Overall, he composed around 300 songs and he also appeared in a number of films in the 1920s and 1930s. In one of them he sang "Ta nase pisnicka ceska" - a song which eventually became his death sentence. After the Nazi occupation of Czechoslovakia, Karel Hasler wrote sarcastic anti-German lyrics to it. A colleague turned him in to the Gestapo and the 62-year-old Hasler was taken to the concentration camp in Mauthausen where he died a cruel death in 1941.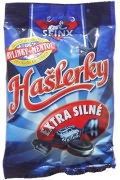 Haslerky This Wednesday, a special concert featuring Karel Hasler's songs, many of which became almost national anthems, was held in Prague. Not only is he remembered for his songs and films but Karel Hasler's name to this day survives in the popular liquorice sweets Haslerky. Karel Hasler, who had a hoarse voice, closed a deal with the producer of these supposedly medicinal candies, and he named them after him.